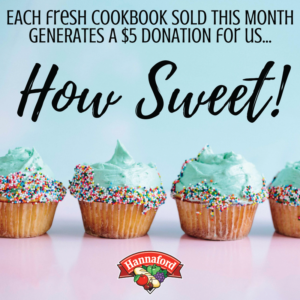 We are just over halfway through the month of October and the fresh Cookbook fundraiser benefiting the Colchester Food Shelf. As of October 13, a $25 donation to the CCFS had been generated through fresh Cookbook sales at Hannaford. Every little bit helps!
Thank you to everyone that has visited the Hannaford at 21A Essex Way location in Essex and purchased a fresh Cookbook! With 14 days left in October, there is still time to visit the store and pick up a fresh Cookbook for you, a family member, or a friend.
The newly released fresh Cookbook contains the best fresh Magazine recipes that Hannaford customers have enjoyed for years. These recipes are perfect for everyday cooking and special occasions. And by purchasing the cookbook, you'll receive $15 in valuable coupons for products you can find on Hannaford's shelves.
We thank you for your support. For more information about the fresh Cookbook fundraiser at Hannaford visit www.hannafordcookbook.com.