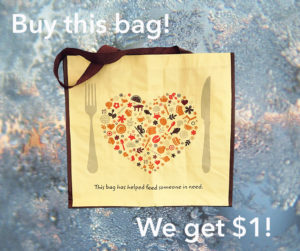 Do you shop at Hannaford Supermarket already? Could you use a few reusable shopping bags? The food shelf has been selected as the recipient of the Hannaford Helps Reusable Bag Program for the month of January at the North Avenue location.
Hannaford recently announced that the donation for every Hannaford Fight Hunger bag sold at the North Avenue Hannaford location will now generate a $1.00 donation, up from 25 cents per bag previously.
Look for the bags with the "This bag has helped feed someone in need" message. Go ahead… buy a few!