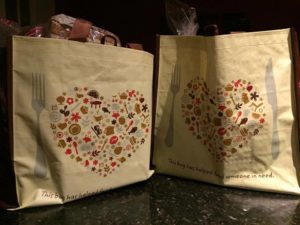 Do you have grocery shopping to do? Tired of those plastic bags piling up in your cupboards?
For the month of January, the Colchester Food Shelf has been selected as the nonprofit recipient of the Hannaford Helps Fight Hunger Reusable Bag Program at the North Avenue location. There are still two weeks left to pick up a few bags for yourself and/or a friend!
We really appreciate all the support we received during our last round. Thank you! Be sure to look for the tan bags with a heart on them. Don't forget, they only cost $2.50 and we get $1.00 for every bag purchased!
For more information on the Hannaford Helps Reusable Bag Program, please visit hannaford.bags4mycause.com.
Thank you so much for your continued support of the Colchester Food Shelf!